Updated August 3rd, 2016
Dave's picks! Dave's faves, with clickable links straight to online retailers who sell them.
"Best of the Best" men's racewalking shoes for Tibesti.com (pdf)
"Best of the Best" women's racewalking shoes for Tibesti.com (pdf)
Click for the cheapest places to buy these shoes!
Reader-provided reviews:
Brooks Hyperion are the latest racing flat offering from Brooks.
I'll have to admit I wasn't a huge fan of the "Pure" line. I do love the Racer ST for 50k races and very long workouts,
but it's a little klunky for faster workouts and races. I also love the T7
--this is a VERY fast-feeling shoe!--but it's not really supportive enough for high-mileage use and tends to wear out quickly. But finally, with the Hyperion Brooks has a very fast-feeling shoe that is also supportive enough for the long haul. Bravo!

Dave McGovern--Locust Valley, NY
I definitely like Saucony A5 for long distance. Learned from Teresa Vaill to shoe goo the holes on the bottom when I first buy them so as not to pick up rocks.


Darlene Backlund--Palm Springs, CA
NB1400s are my shoe of choice at the moment. They are quite supportive (enough for longer distances - all the way to 50K), comfortable, and lightweight. The only thing I don't like about them is that they don't last super long. I get about 300 miles out of a pair.


Tammy Stevenson--Salt Lake City, UT
I love these but they were on the discontinued wall when I bought them. Asics Gel-NoosaFast, Model T357N. Not sure if they have a new version or not.


Paula Graham--Virginia Beach, VA
I'm still in the New Balance 1600's.....but i think they are on the discontinue list (good thing i bought 4 pairs recently)


Donna Habig--Louisville, KY
I rotate between several different brands, from Nike Lunar Glides,
Nike Vomero,
Brooks Glycerne 11,
and just got some Mizuno Wave Rider 17s.
I try to find ones that have a low heel but with some foot support as I tend to have PF issues with too flat of shoes that don't have sufficient arch and heel support.

Peg E Stark--Illinois
Right now I am training in the Nike Lunarlon.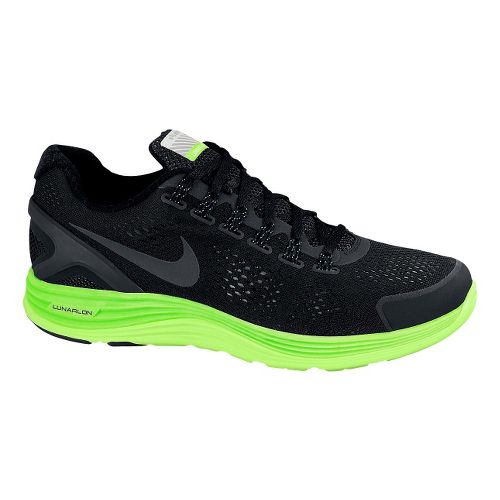 Keith Guy--Byram, MS
Brooks Ravenna 5. Love 'em!


Gary Goldblatt--Fairborn, OH
My default racewalk shoe is the Asics Distance Trainer. Great shoe, great flexibility.


Michael Korol--Syosset, NY
Saucony A5 - light but sturdy enough to handle my 200+ pounds. I still have one pair of A4s which have one or two events left on them. I have bad arches so I use green Superfeet insoles.


Thomas Farnham--Alexandria, VA
Mizuno Hitogami (the replacement for the Musha, although the women's was too small across the front so I am wearing the mens);
Altra Torin;
Saucony Fastwitch 6 (nice small 4mm drop);
and just trying out Adidas boost supernova.


Karen Karavanic--Portland, OR
I'm still a big fan of the Brooks T7s
... of course, I'm not doing too much RWing these days ... sort of slid back into running. But even if I was full-time RWing, I'd be wearing the T7s.

Cathy Van Brocklin--Pearl City, HI
I'm a fan of Brooks Cadence.
Great flexibility while still giving you some cushion for half marathons. I also have the Mizuno Musha and like them too. Light weight and less cushion great for shorter races.


Lou Kaelin--Mt. Juliet, TN
On my third pair of Mizuno musha 3s.
Great for 10ks and Halfs. I get around 300 to 350 miles out of a pair. works for me. Very comfortable. Most races are 10k and 20k.

Kristin Ugrob--Escondido, CA
Saucony Grid A4's,
which have recently been upgraded to A5's
(They are similar looking so I assume not much has been changed about the shoe itself). Good up to at least Halfs/20k's would be my guess, although I've only done up to 10 miles in mine. Low heel, very flexible shoe, but a just a touch more support/cushioning than other racing flats I've tried in the past.

Lauri Berger--Mesa, AZ
Nike Pegasus 28 works for me. Very comfortable. Most races are 10k and 20k.


Sidney Beckmann--East London, Eastern Cape South Africa
I love Saucony Grid A4's.
I will be interested to hear more about the A5's.
Just did a 5 miler (new distance for me) and they felt great.



Priscilla Ormsby--Townsend, MA
I like the New Balance 1400s.
I have done everything from 3K-50K in them. They are light & comfy yet supportive.

Tammy Stevenson--Salt Lake City, UT
I'm a little short on reader-provided reviews this week/month/year, so here's what I'm wearing these days:
Brooks Green Silence
The "green" refers not to the color--although I do have a green version in my closet--but to the innovative use of recycled materials and environmentally-sensitive processes used in creating this utra-lightweight racing flat.
Brooks ST5
I have to admit, I first starting wearing the ST5 for the colors (!) but they have turned out to be a very versatile training/racing shoe. They are a bit more substantial than most racing flats, which makes them great for longer workouts and races, but they are still a very lightweight, fast shoe. They are also incredibly durable for a racer, with a lifespan of close to 500 miles.
Brooks T7
The T7 is a great very lightweight, very fast racer that I use for speed work and short races, although occasionally I'll use them for road tempo workouts as well. The T7 is extremely comfortable for any distance right out of the box, but due to its short lifespan I don't use them for high mileage workouts or races.

Coach Dave
I have worn, for just two outings, a new pair of Mizuno Wave Universe 3
shoes, bought from Running Warehouse for $95.95. No idea how well they will hold up over time, but for right now, I have to say they're the absolute best racewalking shoes I've owned over the 3 1/2 years I've been racewalking. Very light (3.6 ounces), very low heel, roomy toebox. The super-low heel does wonders for my form! Surprisingly, the sole seems to provide pretty good protection: I deliberately tested them on especially rocky patches of our Hike & Bike Trail and my feet felt fine. They come with no insole at all. I put the lightweight orthotics that I normally wear into mine; others might want to use at least an insole from another shoe. Highly recommend.

Gary Davis--Austin, TX
Since my current favorite New balance RC152 is no longer available,
(I bought 4 pair at a clearance, so I'm good for a while), my next favorite is the Brooks T-5.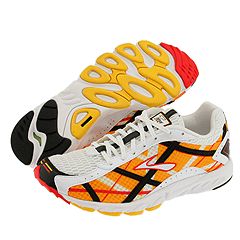 The Brooks T-5 is an ounce heavier at 8oz, but has a thin flexible sole that bends near the toe, and little heel thickness. Both of these are reputed to wear out quickly, but I only use them for 10k or less, and save the NB for race day. I also use a slightly heavier (10oz) Saucony Fastwich-2 for training.
I understand this may be replaced by the fastwich-3, which I have not tried. These don't seem to wear as fast as the New Balance, and may be better for 20k or half marathon.

Frank--New Jersey
I'm currently loving the Adidas Adizero line. Manas for training,
PR, Pro and RC for racing (depending on my mood and what falls out of the closet first).
A few of the women in my club are actually using a Nike women's cross country spike (filling in the spike holes) because they fit like a woman's shoe.

Sherry Watts, Ilderton, Ontario Canada
If you have a narrow foot (or better put not a wide foot) suggest the Asics Cypress. Original model and Cypress 2 which is basically the same profile and just a newer model.
Small heel and provides flexibility. I get mine online from onlineshoes.com. Cheaper than Zappos but not as fast in delivery. I went up a 1/2 size on these. Generally, will wear a 11 1/2 but wear a 12 in these. Lots of information online but here are two links worth looking at.

Jim
I've just been trying out this lightweight running trainer New Balance MR904 (new for 2009).
I think it's the closest to the RW111. The shoe is very flexible in the forefoot, has a low heel and is light. Best of all it doesn't irritate my bunion. Compared with the previous 900 series (I've used 901 - 903), the 904 is slightly narrower in the toe box. It's not been a problem, as I got a half size larger. It's my new favourite RW shoe for 10K - half marathon.

Cheng
Hi all,

I have been wearing the Hyperspeed 2 and just got a pair of Hyperspeed3s.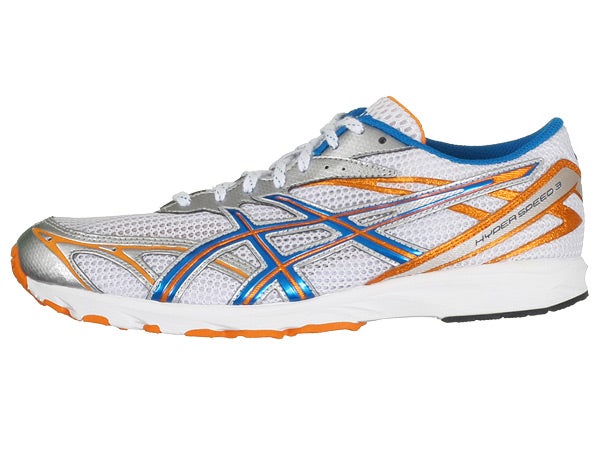 About the same time I purchased a pair of the Avi-Bolts
since they are women's racers (and they don't have holes in the bottom!). First I thought I really liked them but now I find that I grab the Hyperspeed for any fast work or any distance. It took me a while but I think the difference is in the firmness of the heel (Avi Bolt being firmer)and a slight a slight more extentsion of the Avia heel in back. It seems to make it harder for me to get the correct heel plant. Otherwise the Avi-Bolt fits very well, has a nicer color scheme (gold and white instead of blue and orange) and is "sexier" than the Hyperspeed.

Paula
I purchased a pair of the Asics Cypress and have worn them twice with good results. It's billed as a walking shoe, but I think I like them better than the Gel Hyperspeed 2's. A slighly lower heel, but with overall more foot support, and just the right amount of flex, giving a nice return on the roll.


C. Marcus McCarty
I'm on my 5th and 6th pairs of NB 205's. I alternate two pairs which last me a year. I have four more pairs in my closet so I am set for the next two years. I am a big guy (6'2", 200 lbs) with really high arches, advanced osteo-arthritis in one hip, and one leg structurally (meaning can't be fixed by alignment, mobility exercise, stretching, etc.) shorter than the other. I have always trained and raced in the same flats with no problems. My weekly mileage is between 20 and 40. I would highly recommend going to a running shoe specialty store where the employees know what they are talking about. This is your safest bet to find the best shoe for you. The shoe should feel right (no rubbing, tightness, the right amount of bounce, etc.) before you buy it. The shoe store I use lets its customers take the shoes outside on the sidewalk for a trial run/walk. Try your new shoes out for a week or so, and if they work, go back and get another pair. Or, order the same shoe online (where you can probably get it cheaper). Alternate your two pairs and they will last much longer. Buy another pair(s) to put in your closet as running shoe manufacturers often discontinue models at a moment's notice (NB 205's will be made at least thru 2013—I contacted NB HQ in Boston and talked with their customer service department). If you used to wear NB 110's, those horrible looking orange and green RW shoes, the 205 is for you. Compared to the 110, the 205 wears like iron and has better ventilation. A pair of 205's will set you back about $90.


Bill Vayo
I use the NB 600s for long, slow days. Only 8.7 oz but still has good support.
I also know people who like the 902.


Tori Cooper, Cambridge, MA
I just got back from a quick loop around the Mystic in my NB 790s. They're good looking and there's so little to them that you can feel the contours of the ground, which I like, but I know some people don't. For what my humble opinion's worth, I really like them for easy days. (I use adidas for more strenuous workouts.)


Christine Rafal, Mystic, CT
At the various shoe stores, the women's Mana was described as a stability shoe, or one for those who moderately or excessively over-pronate. I need a neutral shoe. Apparently the Mana has undergone some changes, as I saw some older men's models also described as a stability shoe, but the newer model is said to be neutral.

I ordered a pair of the Mana - the newer men's model. They are definitely a racing flat with a low heel, and relatively light. They are not as flexible as the NB 110/111s, nor the Chinese Health RW shoes, but neither are they stiff. I like very much that they fit smoothly and comfortably through the arch and the heel, snugly but without a suggestion of pinching. I haven't before experienced the wider toe box of men's shoes. My foot has widened since I started walking so much, and I'll have to see if this extra room translates into blisters, but I can't say I'm expecting that result. I tried them on an easy 10k workout today and like them very much. I'll wear them on a longer workout in a few days, but I suspect these will become my shoe of choice. Now, if only Adidas doesn't phase them out!

Elizabeth Richardson, Ward Cove, AK
I started wearing the Adizero Mana after I could no longer find the Brooks T4 racing flats. I really like this shoe with its boxy toe, and the low heels allows for a good heel to toe roll. I have a very neutral foot and this shoe just plain feels good. I have worn it for training and one half marathon an plan to get another pair for this season.


Pat Schuppin, Gladstone, VA
New Balance RC 550 is designed for the neutral to under-pronator who requires lightweight cushioning. Responsive racing flat, suitable for marathon distance.


DMcG
Diadora Mythos Racer are available in men's sizes 7 -12.5 at the following web site.
These are very hard to find shoes that I've really loved for the past year. If anyone is looking for them...

www.ocsoccerco.com

Lauri in AZ
Walkers,

I've been wearing Asics GEL-Hyper Speed™ 2 for almost a month now and can recommend this shoe for racewalkers. Since the bright red GEL-DS Racer VII, which I also wear, is being discontinued, I tried on the Hyper Speed 2 and I love them!


I can best describe this shoe as a streamlined version of the DS Racer. It is slightly lighter, weighing only 6.6 oz. compared to the DS Racers 6.9 oz. More importantly for walkers, the heel is lower and the sole is flatter. I also think the Hyper Speed 2 has more flexibility. I paid about $70 for this pair, which is a lot less than the DS Racer, if I remember correctly. And let's not forget fashion. Although I enjoy joking about the DS Racer's "ruby slipper" appearance, I like the white and kiwi green of the Hyper Speed 2 better most days.

I've used these shoes for speed workouts, a 20K training walk on concrete, and this morning, a 5K race. I was a little worried that they would not be supportive enough, but even with my bad knees, I have no complaints.

Information on this shoe can be found on the Asics web page at www.tinyurl.com/2kpt64 including a zip code search to find out where you can buy them locally.

Darla
Hello,

In April I went back to China to visit family and while I was there I visited the Guangzhou Olympic training facility and met with the distributer of Health Shoes to the athletes. I learned that they did have a racewalk specfic shoe, so I bought some to try.
I was suprised at how light and flexiable they are, For reference I have been walking in the New Balance Race walking shoes, but was always having minor blister or black toe problems with them on really long walks. No longer with these, in fact they are so light it took me a few walks to get used to them.

After reading so much about everyone having a hard time to find good shoes I discussed with my husband and we imported some for people to try and see if there was real interest in these. Some of my team mates have bought and tried them and so far everyone really likes them. I have worn mine now for all racing and training since April and still feel very comfortable.

You can read about the company here: www.hk-health.com/English/Main.asp The shoe model is the 711-1 shoe.

I have sizes 5.5 to 9.5 available for $60, which includes shipping. Please NOTE! sizes are a full size different, I wear a 6 1/2 in the New Balance but a size 5 1/2 in these.

Also sorry but 9 1/2 which is equal to a USA size 10 1/2 is the largest they sell.

Please email my husband Mike if you are interested or have questions at tri_ox @ hotmail . com He has set up a web site with information on the shoes at: www.mrcg.net/shoes.asp

Thanks and happy Walking.

Susan Randall
I'll chime in also on the Chinese shoes. I really like them, even for my very narrow feet. No heel slippage at all. Great for short distances/races. I don't think I could use them beyond a 10k though either.


Another shoe review: Diadora Mythos Racers.
Great for longer distances. I found mine at www.zappos.com. More substantial cushioning, low heel profile, and comes in some of the bigger sizes that some were looking for. They are however, getting harder to find according to several people who recommended them to me. Zappos only had 1 pair left in my size, so I was very happy to snag them up. Only negative: since they are unisex sizing, the only width is a men's D width, which is a bit too wide for my narrow foot. I even added a Dr Scholl's store bought orthotic to take up the extra slack and still there is a bit of heel slippage. Overall a great shoe, just wish they made it in women's sizes/widths as well. Would make a great shoe for marathoning/50k's I would think. If anyone else should find an alternative source for this shoe, please let me know!

Lauri in AZ
I also got my pair last week, and they are really great and fast. They are so light and unobtrusive, and they fit perfectly (I'm not hard to fit, but still, it's nice to have a great fit from the start). I agree that they are probably best for shorter distances - I think I would use them mostly for 5-10k races, which suits me well, since I prefer shorter distances, I think. They would probably be just fine on the roads I tend to walk on, though I will use them more for track workouts and races. I absolutely love the low heel, and the price was right, too!



Tammy Stevenson
I tried out the new Chinese imports today, which arrived while I was in Orono. They are extremely light and flexible, as Dave said, and the heel is lower even than the NB111. Dave said they were fast, and I would like to report another 30 seconds per km; sorry, not today, but that may not be the fault of the shoes. They did feel as close to barefoot as I've ever felt while actually wearing shoes. I sometimes have had a problem with a good heel fit, as I have a somewhat narrow heel, but these were good and no slippage, without any fancy lacing alternatives. Plenty of room in the toe box. Total workout distance was about 10k - probably long enough to experience whatever problems they might present. I don't think they offer enough cushion for my road workouts, which has frequent occurrences of small rocks, but they will be my shoe of choice for the track workouts, and probably any short races. And, at nearly half the price of most name brand shoes, if they last only 250-300 miles, I'll be ahead financially.



Elizabeth Richardson
Gang,

I'll chime in with the others and say that I have, and like, the AdiZero. I've done a marathon in mine and they worked well. Mine are the AdiZero RC II. There is another model of AdiZero that has a bit more "nub" on the soles that i would like to give a try for my next pair.



Mark Sekelsky
I strongly recommend the Gel DS Racers.
After the NB110 (my all time favorite), I went on a slump in shoes. It took me 8 different models over 2 years to find a pair I could do more than 15 miles in. The "Gel DS Racer" was it. For those 2 years I was keeping my remaining NB110 in boxes for 20 milers and marathons. No need to do that anymore, the DS Racers got me through my first 50K! As for popularity, they were the most popular shoes at the 20K in Clermont last November. Our champion Loretta wears them too!

Daniel Coupal, Santa Clara, CA
Gang,

If you're looking for a pair of very light, verrrry fast Racing shoes, check out the Nike "Mayfly". I would guess its in the 5-6 oz weight and great for short sprint events and maybe up to 20K.
They are "Pretty/Ugly"... a Pimpish hue combo of Mustard and Baby poo ... but get past that and these shoes are F-A-S-T... you may not catch up to them for about 2K. ;)
Roadrunner Sports had them on sale for $50 and the second pair half price. I bought a pair of size 11.5 and one of size 12 and they both fit fine and run fairly true to size. You won't know their on your feet...not good for you who need support and cushioning.


Best to all,

Dick Petruzzi, Sacramento, CA
I purchased the New Balance 152 because they are light (7.1 oz for size 14 and I think a size 9 is 5.4 oz.) They are primarily Florida State orange with FSU blue on the heal cup. I have only worn them once. The workout I did was 5-1000m repeats and about 85% of max heart rate (I'll spare you the split times). The heel height is about 3/4" and overall the shoe is very flexible. The toe box is wide enough that I didn't need to start lacing the shoe in the 2nd eyelet. They were quite comfortable and gave enough support for for my workout. These are really good in my view for 5 – 10K races. I will still train in Saucony Fastwich endurance. I am doing two 5000m race in April (1 next Saturday and on the other on the 29th) and I will wear the NB152's. The shoe feels good; I really like the weight and LOW heal. Once I got past the incredibly BRIGHT orange with lighting blue trim I cannot complain about the shoes. They don't look like they will last a long time but that's why they call them RACING flats. All-in-all I think this is a good shoe to compete in and do interval workouts.


David Harriman, Indiana Racewalkers
I've had a lot of trouble finding shoes that fit since New Balance discontinued the RW 111's. So I was excited when the new RC 152's were shipped. They feel a lot like the old NB 100's – very roomy – but there's less shoe there. The heel is low and gives nice cushioning on the heel strike, and I can feel some cushioning as I roll through the mid-foot. For the rest of the stride, though, it feels like just me and my feet. I like it, I'm not fighting the shoe at all. For fit, there's tons of room to wriggle my toes (and some of someone else's). But that might be because these are unisex and the 100's, 110's, 111's weren't. So maybe men would find them smaller than they are used to. But being a woman with a large, medium-width, foot, they fit nice & roomy. I'm VERY concerned about how long they'll last. They are very soft on the bottom. After only 20 (yes, twenty) or so miles, the sole is markedly worn and decidedly chewed up at the fore-foot. I wanted to do a marathon in them but now I'm not sure they'll make it. And that bright orange color might blind me.


Nicolle Goldman, Sacramento, CA
I think that the New Balance 902 that they came out with mid-Feb is as close to the 110 as I've found. I'm using it as a training and road racing shoe. It has a triple sole break for roll-off and is as light as the 110. See what you think. The women's is a bright blue and the men's version is orange.


Connie Bohm, Kalamazoo Valley Walkers
Just a quick synopsis of an article that I glanced at in "Triathlete" (April 2007 issue). Some of the racing flats mentioned were:

1. NB RC 152 (5.5 oz)
2. NB RC 1001 (7.6 oz)
3. Avia AVI Bold
4. Fila Corsiotto
5. Brooks TS Racer (5.9 oz)
6. Brooks Racer ST 3
7. Asics Gel Hyperspeed (7.1 oz)
8. Asics Ohana Racer
9. Adidas Adizero PR (3.9 oz)
10. Adidas Adizero RC (6.7 oz)
11. Mizuno Wave Revolver (7 oz)
12. Nike Zoom Cage II
13. Nike Zoom Katana Racer
Just a few more to look at (since I hear that the NB 205's and 550's are to be discontinued).


Sharon
So far I've tried about a half dozen different shoes and my favorite is the NB950.
They are light weight, 6.7 oz, flexible and have a very low heel which makes them roll nicely. They have more arch support than the other shoes I've tried and I notice that my feet don't get as tired on long days. The only drawback is that they are a bit more expensive than some of the other shoes.

Yvonne Allmaras, Littleton, CO
I really like the Saucony Fasttwitch Endurance but the pair I have didn't seem to last that long.
I just got another pair, so I am going to faithfully record the miles and see just how long they last. I had a pair of Mizuno Wave Revolvers that I absolutely loved and wore them until they were no more. I also like the OLD Asics Tiger Paws and have found them online as low as $19.99. Count me in among the fans of the NB 205, however, I like the NB 550 better because they are a bit wider.

Deb Vandover, Monrovia, MD
After I went through a dozen of NB110, I could not find a pair of shoes that would let me do more than 16 miles without blisters, pain, ... I went through 7 different models (NB111, NB205, NB550, Saucony, Mizuno, ...), all without success, up to last fall when I tried the Asics Gel DS Racer VII.
I was able to do my first 50K in those. I found a good match just on time, because up to that moment, I have been keeping my last pair of NB110 in a box, getting them out for the marathons only. Based on the 50K in Chula Vista and the 20K in Clermont, I suspect the Gel DS Racer VII is the most popular model. Even Dave's fiancee uses them. Anyway, this is a good thread of e-mails. I will look at the ones I don't know to see if I can find a better model. As for the NB111, they seem to have been popular, but the 2 pairs I bought were defective, the structure of the shoe pulling the material in the inside. Shame on New Balance to let the racewalkers down. I used to buy their shorts and tops too, but they lost me.

Daniel Coupal, Santa Clara, CA
I use a XC shoe as well: Saucony Kilkenny (spikeless).
I love them, although I did have to get used to the little nubbies on the bottom of the shoe, but it didn't take long for that to happen. I don't notice them at all now. I love the Kilkenny, it's very lightweight and super flexible and fits my foot like a sock. I've put at least 300 miles on mine so far and they are still holding up very well.

Lauri Berger, Mesa, AZ
For 5K to 10K Brooks T4 racers
or Nike Air Zoom Katana Racer II.
Both are very light weight and flexible. For marathons Asics DS Racer. I've worn the DS Racer for 20 marathons and it is light and flexible but provides that little bit of extra cushioning you need for 26 miles.

Grace Mutz, Cary, NC

I think the Brooks T4 is a great shoe for speed workouts, but it is not a practical choice for a high-mileage racewalker. The outsole wears through extremely quickly (50 miles of racewalking.)

Loretta Schuellein, Locust Valley, NY
No one seems to like my Nike Zoom Air Streak XC that I love so much.
They are a 5 oz. shoe, which I can wear for about 300 miles before I turn them in for a new pair. I'm not aware of the sole that someone was speaking of earlier for cross country running, but then again, I've never done any cross country work nor have I ever had any other racing shoe. I need the width across the ball of the foot that I get from a man's shoe and yet it's still an attractive shoe, because most of mine are the black and white version, not the last model which is navy blue. It has a pretty low heel and is so flexible that you can practically fold it in half with no effort. I've been thinking of getting a heavier racing shoe for workouts and using the Streak XC for racing. For me, there are very few shoes that fit me properly and I'm pretty picky (for lack of another word) about any shoe I wear because I have such a thing about blisters, callouses and dark toenails. So far I've never encountered any issues whatsoever with these fabulous Nike shoes.

Sylvia Ellis, North Hollywood, CA
The Women's New Balance 902 (New for February, 2007) is available at Sports N' More for $79.99 if anyone is interested (1-800-397-5480).


Kathy Franczak, Torrance, CA
Another shoe with a similar feel to the NB111 is the Adidas Adizero RC2, the rare racing flat that is available in both men's and women's versions.
It's shockingly lightweight, so some folks might find it to be too "little" shoe, but it's so flexible you could roll it up and put it in your pants pocket and, as somone else said about another shoe, it feels a lot like a ballet slipper. Plus, the women's shoe manages not to be bright red, bright green or bright orange! One really nice shoe that could replace the NB111, but only if it ever becomes more widely available in this country, is the Diadora Mythos Racer, also available in a women's version.
Same exact weight as the NB111 and one of the few shoes I've found I can wear for longer stuff without wondering what my feet are going to look like later . . . it's just a no bells and whistles racing flat, but I like the fit way better than most of the unisex shoes I've tried. (Both of these are available on zappos.com) Still searching for that "perfect" shoe,

Robin Leff, Los Angeles, CA
I went to the watch the 50km championships in Chula Vista and several of the top walkers were using flashy red Asics DS Racers. I got a pair and used them on the L.A. Marathon--got through it just fine without blisters or overly tired feet. Another shoe that I would highly recomend is the Loco Bandito.
They have more cushioning than most racing flats so they are quite comfortable. The Asics DS Racers cost more then the Loco Banditos but they are available in more stores and online dealers.

Daniel Fort, West Hollywood, CA
Asics Gel Ohano---light, good cushioning for a flat.
Could be a little less heel. Better durability that the NB shoes. NB 201- Got me thru the Goofy just fine. Very flat & light. Not as durable as I'd like, began showing serious signs of wear by 100 miles.

Dan Sibley, Antioch, TN
I have been using Mizuno Wave Precisions for training and races over 5K.
I spent a lot of time on trails too. I just ordered some Mizuno Revolvers- racing flats. I will report on those.


Michael J. Madigan, Tucson,AZ
I've been wearing New Balance 550s for a couple of years.
They are light and flexible; have a good, low heel; and come in widths (which helps to make my feet happy). I wore them in races from 5Ks to half marathons last year, and never had a problem with the shoes.

Jay Diener, Hampton, NH
I just recently bought Brooks T4 Racers.
The price was $79.99 and I love them. They are incredibly light (2 oz less than my 111) and they have enough room in the forefoot. Normally I have to get wide EE but the T4 in medium fits just great. So far I have about 50 miles on them (indoors) and can't detect any wear.

Chris Schmid, Wooster, OH
Most of the Ontario Masters walkers have gone to the NB 205's.
They weigh 7.6 oz, just a tad more than the NB111's at 7.4 oz. Very flat and flexible. Unisex sizing so ladies may need a smaller than normal size. Same price as the NB 111's too, at least in Canada. Seems to be a good replacement.

Nancy Leo, Willowdale, ONT
The Nike Zoom Miler might work ok for racewalking, but I don't think you would want the Zoom Streak XC shoe because the sole is made for cross country and has a lot of rubber nubs and ridges for traction.
[Editor's note: The Zoom Miler is a spike and would certainly not work for racewalking. I do know a number of people who have been happy with the Zoom Streak XC for short distance races and workouts.]

Damon Clements, Crawfordville, IN
Of course all of this presupposes that you need shoes... Click here for evidence to the contrary.